You've stumbled upon my old website!
I no longer use the pen name "G. T. Anders," and I've also given up self-publishing. I now write under my real full name, George Thomas Anderson. See http://george-anderson.net/ for my latest short story publications, news, and more. Thank you!
If you're interested in my old work, 2012-2013, see below.
The Feckidees would like to be normal, but generation after generation—first great-uncle, then father, then son—gets sucked into a hidden struggle of cosmic proportions. It turns out those strange abilities are no coincidence after all: the Feckidees have been gifted for a reason.
James Feckidee's recent divorce, and now the death of his beloved Uncle Phil, have left him with little will to live. But an ancient photograph of Uncle Phil and a stranger who hasn't aged in forty years hints at a startling undercurrent running through all James's trauma.
James can join his new friends in their suicidal plan to "leave Earth," or he can return home—where a monster waits to destroy the alarming powers of his young son, Austin. Between death and death, James chooses death; but waiting on those train tracks for the coming thunder might just be the best decision he will ever make. Death, it turns out, is not annihilation, but the first step in an unstoppable spiritual ascent.
"G. T. Anders is gifted in coming up with brilliant ideas. A Chair Between the Rails combines immortality, monsters, love, adventure, and literature…
Although there are some passages that are tough to get through, perseverance is rewarded. A Chair Between the Rails will delight and surprise readers page after page and help them view reality in a whole new way."
–Andrew Keyser, Portland Book Review
a
"[Anders] deals with so many issues… mental illness, personal journeys, reconciliation and redemption in the frame of the out of world journey in a giant rusting intergalactic train to find God. It's like a ghost from our subconscious… The book is out of worldly in form and content."
—Anna R., Books & Anna
a
 a
a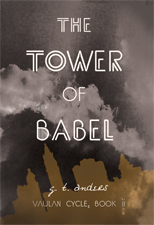 Austin Feckidee wants to make it as an artist. He has the talent, the grant, and the studio space in the city. If only he could shake his past—the strange work he did with a few friends at an abandoned church in the countryside.
Now, that past is staring him in the face again. Stella, the ringleader of the old operation, has sent him a letter begging him to return to the work that failed utterly three years ago. Should he answer her call to be a servant, or should he stay and pursue the heights of his own artistic genius? His decision might just change the world, or show him who he really is—or both.
a
"The ending [of The Tower of Babel] is beautiful in its technique and the final divine love that comes through." –Anna R., Books & Anna
a
 a
a
Book III: Make Worlds With Me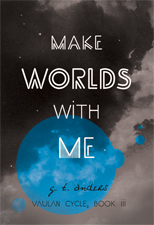 On a virgin world, Vaulan offers them all the ultimate transformation: to become gods of infinite stature. But not not everyone is ready for the gift (and the burden) of divinity.