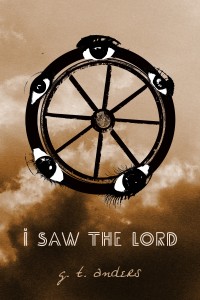 80 years before The Tower of Babel, a young boy found he had second sight. But grownups don't believe children who see visions…
Now Uncle Phil is an old man. But as he begins dictating his story to his nephew James, the madness of those times comes back.
"The worst thing you can do, little fella, is fear what you create. I've known this from earliest memory; and even before I knew whether the visions were creation or reality, I never cowered before them, but embraced them.
"My name is Phillip Feckidee. I am now that which the weakness of this earth would call an old man; and though my hair may be white and my eyes hidden in wrinkles, my capacities are undiminished, you hear? If I wished, I could disappear this instant from before your eyes and thus give you something far more interesting to write down than the dry story of my life. But you're too young, great-nephew, for such a disturbance; so I'll stick around…"
So begins the alarming tale of Phillip Feckidee. To find out what he saw, you'll want to read all of "I Saw The Lord." Simply sign up for G. T. Anders' email newsletter below. A link in the confirmation email will take you to a page where you can download the story in PDF, EPUB, or Kindle format.